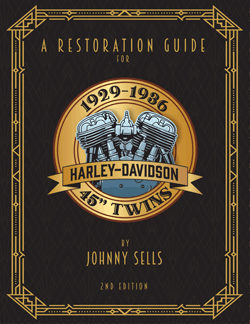 Now available is the 2nd edition of our restoration guide for 1929-1936 Harley-Davidson DL & RL 45" twins which now contains 672 pages with 1767 images and the entire chapter on paint and transfers in color. The book includes production information, model identifications, original specifications, factory service bulletins, descriptions, dimensions and photographs of hundreds of parts, as well as disassembly, repair, assembly, testing and adjusting procedures. The book also includes exploded view diagrams that have never before been produced for components that include the 1929-1934 three-speed transmission, 1933-1937 "slant-top" reversing transmission, 1929-1933 oil pumps, model 30D generator, Klaxon 11 horn, band brake assemblies, 1930-1936 circuit breaker, rocker plates, fork springs, Mesinger No. 3 Saddle, ball and cone rear hub and tapered bearing rear hub. The appendix includes several original factory studio photographs. Included with the restoration guide is free access to parts lists in PDF format for each of the eight years covered by the book. Each list is approximately 50 pages and lists every part used for each year, including the correct finish for each part.

Click here to view the Table of Contents.
The book is printed on high quality gloss paper with a heavy wire binding to lay flat on your workbench. The cost of the manual is $85.00 plus shipping. Click here for ordering information.